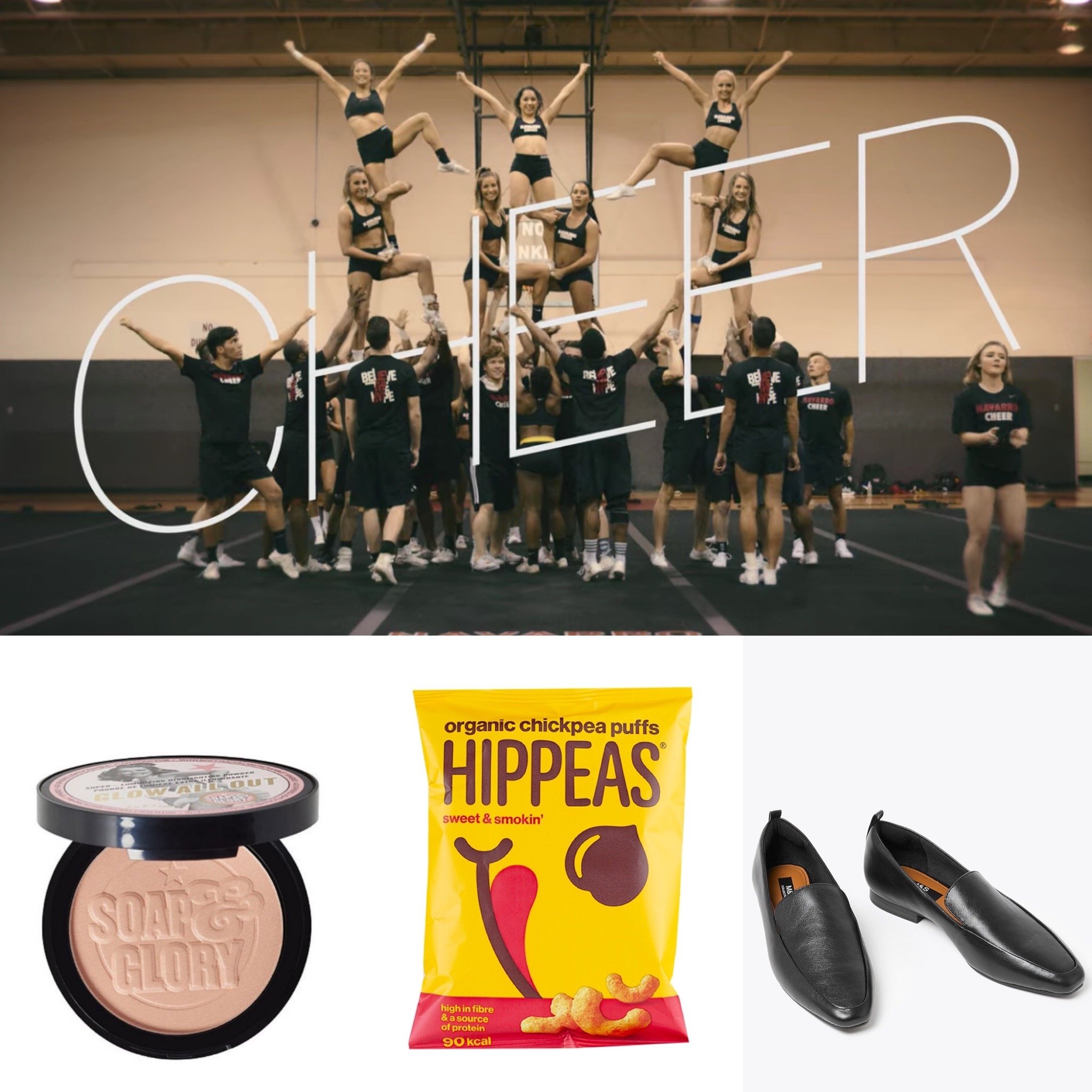 My small person turns five next week so baking cakes and attempting to locate Scooby Doo tableware has felled blogging productivity. Scooby Doo is not a thing in the UK, it would seem, requiring delivery by Amazon Global and a lead time of three weeks. Did try to bribe her with all manner of Frozen II merchandise, but she appears to have her own mind, cannot begin to imagine who she gets it from.
WATCHING
Cheer, Netflix.
Talking of non-UK pursuits, have just finished Cheer, the Netflix documentary that follows a collegiate cheerleading team. Not being a sporty person, nor a sports watching person, the series wasn't of particular interest, but it kept cropping up, people taking about it in reviews and on podcasts, Facebook even. Cheerleading, it turns out, is quite the sport. Found the show a bit slow to start, but by the end was as invested as it is possible to be. Edge of my seat, shouting at the TV style, similar to Mr. Wells watching England during a World Cup. Mr. Wells, incidentally, thoroughly enjoyed it too but if he thinks this is a gateway to me watching the Rugby competition he is mistaken.
REDISCOVERING
Glow All Out Powder, £11, Soap & Glory.
This powder from Soap & Glory is the absolute business. They call it a highlighting powder, which threw me as it's not very highlight-y, not in a shiny cheekbones way. However, apply it with a powder brush all over your face and it is gorgeous, gives a blurred effect to pores and adds radiance to dull skin. Incredible flattering on dry skin but suitable for all. Perfect for touch ups as what it takes away in shine it adds in glow. Very subtle, in the manner of an Hourglass Ambient Lighting Powder but with absolutely no shimmer. Is probably worth mentioning that the powder is pink, which gives an amazing brightening effect but does require a light hand.
COVETING
M&S Collection Leather Square Toe Loafers, £49.50, Marks & Spencer.
I took the Anthropology boots back. A bargain they might have been, but I just didn't need them. What I will need as we move into Spring are new loafers, and these ones from Marks & Spencer are perfect: black, leather, just the right masculine shape.
EATING
Organic Chickpea Puffs, Hippeas.
My new snack of choice, not a crisp exactly, but the perfect accompaniment to a glass of wine or a sandwich. Hippeas are made from chickpeas and are absolutely delicious, if a bit odd initially, particularly if you are expecting them to taste like Wotsits which they do not. Not sure if being made from chickpeas makes them healthier – lower in fat or carbs or something – should probably check but instead am just assuming so and feeling virtuous.
Til next time,
Hayley
x