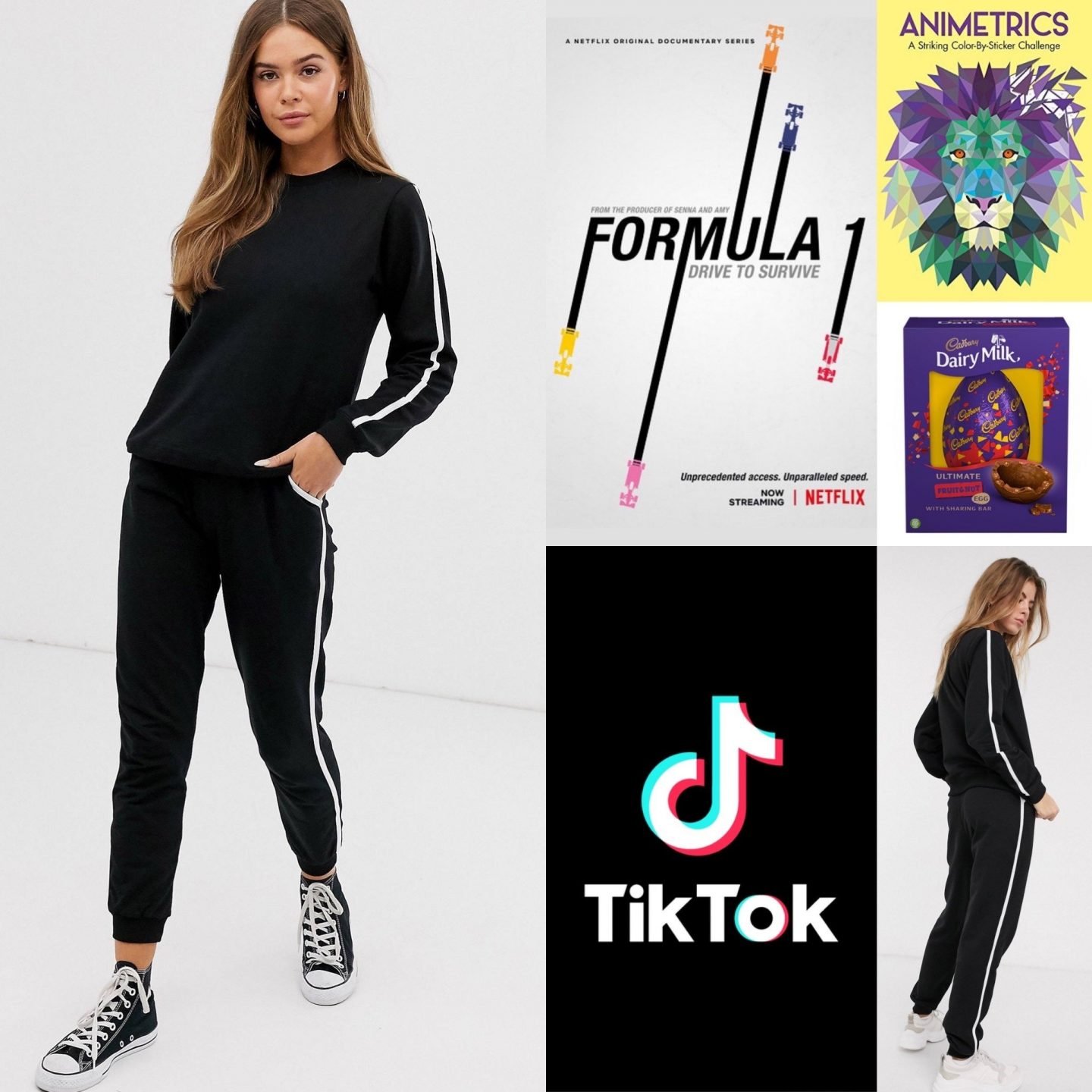 Did the Easter Bunny come? Have you all enjoyed a chocolate egg based breakfast? I have a Cadbury Dairy Milk Fruit & Nut one that has fruit and nuts inside the actual shell. Slow clap for you Cadbury and your chocolately innovation.
WEARING
DESIGN Tracksuit, £32, ASOS.
Got a new tracksuit. Well pleased with it. Not entirely sure if buying clothes online during the corona crisis is the right thing to do, but I've done it now and am very comfortable of body if not of conscience. Being truly honest, have actually bought a couple of bits as I spent the first week of lockdown looking like something you would find in a bin. Threadbare leggings and bobbly joggers have been banished and replaced with a few select items of loungewear. Not sure how I will ever return to regular clothes. The tracksuit life has chosen me.
WATCHING
Drive To Survive, Netflix.
Sure we've done the usual suspects, Tiger King (horrid), Love Is Blind (pretty horrid) and The Split (good but horrid). But have you seen Drive To Survive? It's a Netflix original documentary about Formula One – not an obvious choice for me as a fan of neither cars nor sports – but it is absolutely thrilling. Watched both seasons back to back and while it is not horrid, it did make me feel rather anxious so might not be ideal viewing if you are looking for calm escapism.
MAKING
Animetrics Sticker Challenge, £9.99, Waterstones.
Something that is ideal for some calm escapism are these Animetrics sticker books. Incredibly satisfying to complete. Bought one for my five year old, wish I'd bought one for myself. Mummy occasionally helps to finish them while the child is otherwise occupied.
PLAYING
TikTok, App Store.
If you have hours to spare, would fully recommend TikTok. It's mostly people doing silly dances and other people trying to copy those silly dances. Much more entertaining than it sounds. If you do not have hours to spare, avoid, it will steal your precious time, your house will become dirty, your children left unwashed.
Til next time,
Hayley
x