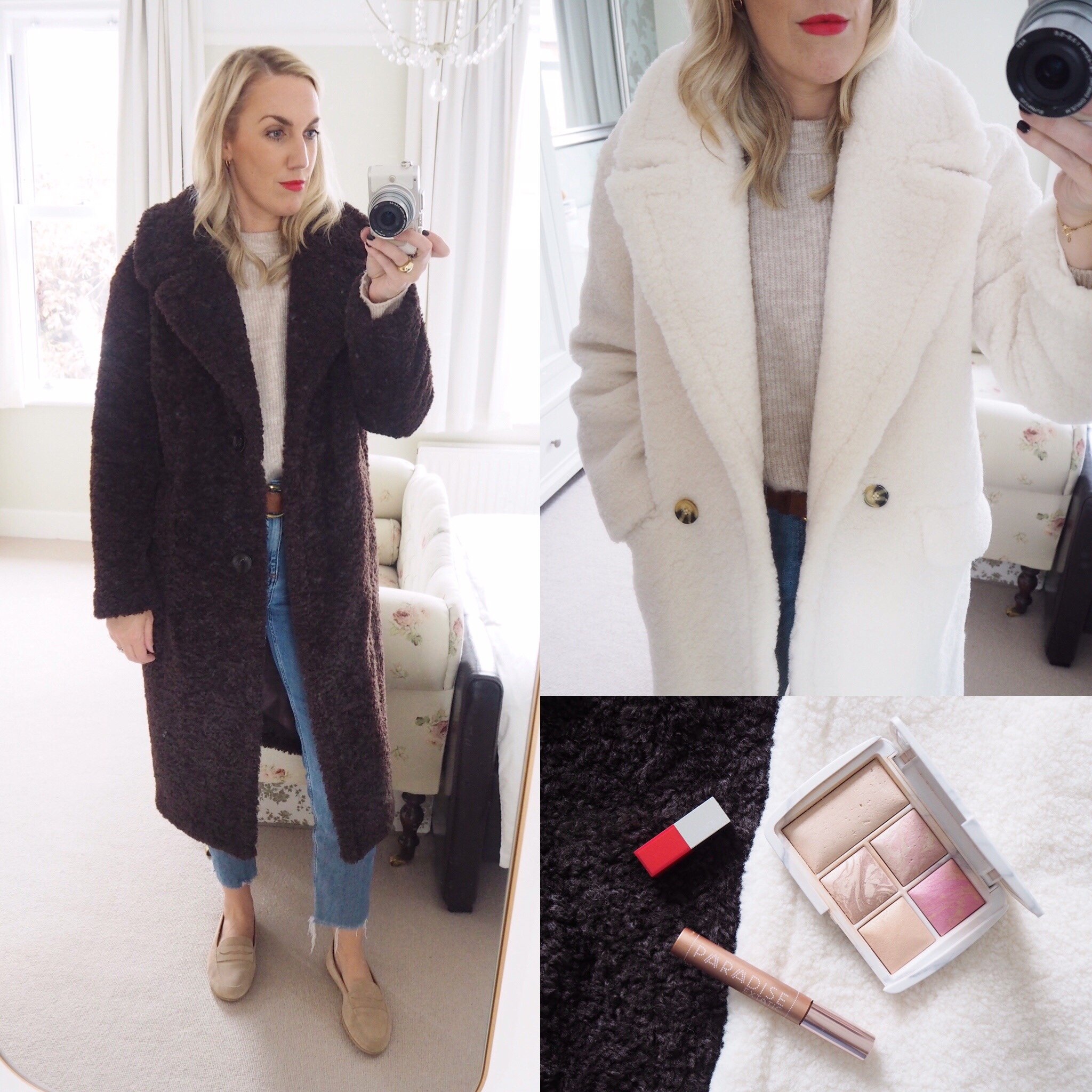 I live for a trend that raises eyebrows or could be described as extra. Fur coats and Dad trainers and grown up women in velvet Alice bands. Want it, all of it, get on my head, feet and face.
WEARING
Headbands are my new favourite thing. Late to the party I grant you, but now that the hairband seal has been broken I've taken to it with gusto, the full velvet and pearl man-repelling monty. Wore it to a wedding and it did not get great reviews, which I enjoyed immensely.
Have not been wearing a faux fur coat this week as I actually bought a teddy coat instead. What's the difference, I hear you cry? One is faux fur, the other is faux sheepskin. The best faux sheepskin around is without doubt this white number from Mango – the length, the lapels, those pockets – but no sooner had it arrived in my house than the ridiculousness of the garment dawned on me.
Who can wear a white coat? I mean, honestly? Not a person who has children or who travels by public transport of any kind. Nor those who travel by car, unless your car is significantly cleaner than my car. It's not the thing for sitting down in any capacity, really. Nor is it the thing for people who are prone to spills or those who like to eat chocolate. And it's certainly not the thing for a person who is partial to wearing excessive bronzer.
So it went back and was replaced by this fabulous and fabulously practical option from Marks & Spencer. Do you see? Mud coloured. Run at me in wellies tiny child, I shall carry you. Could eat a Cadbury's flake in the car while wearing it without fear of crumbs. It's my new school run coat, there is something irresistible about overdressing for the school run, like I might moonlight as a jazz singer or spend my days doing an impossibly glamourous job – Champagne buyer for Harrods, dahling – rather than searching for lost socks in softplay. Now I just need the temperature to drop by a few degrees.
USING
Speaking of the weather, the duller days have seen me reaching for my Hourglass Ambient Lighting Palette and I must tell you, it is the bee's knees. It was a slow burn, my love for the Hourglass powders, they are a little glittery for the summer months but for darker days they are the business. People keep telling me I look nice. Someone even used the word luminescent. My palette is old but the new one, the Hourglass Ambient Lighting Palette Ghost, £75, is out now.
Have also been revisiting the L'Oreal Paradise Mascara, £11.99. It's been a couple of years since I tried it last and I like it very much. A bit intense initially, clumpy and prone to smudges, but once you get the hang of the brush it's a beaut. Does everything, volume, separation and length. Have also discovered a new lipstick, a red one, from Clinique. Full review coming soon.
Til next time,
Hayley
x