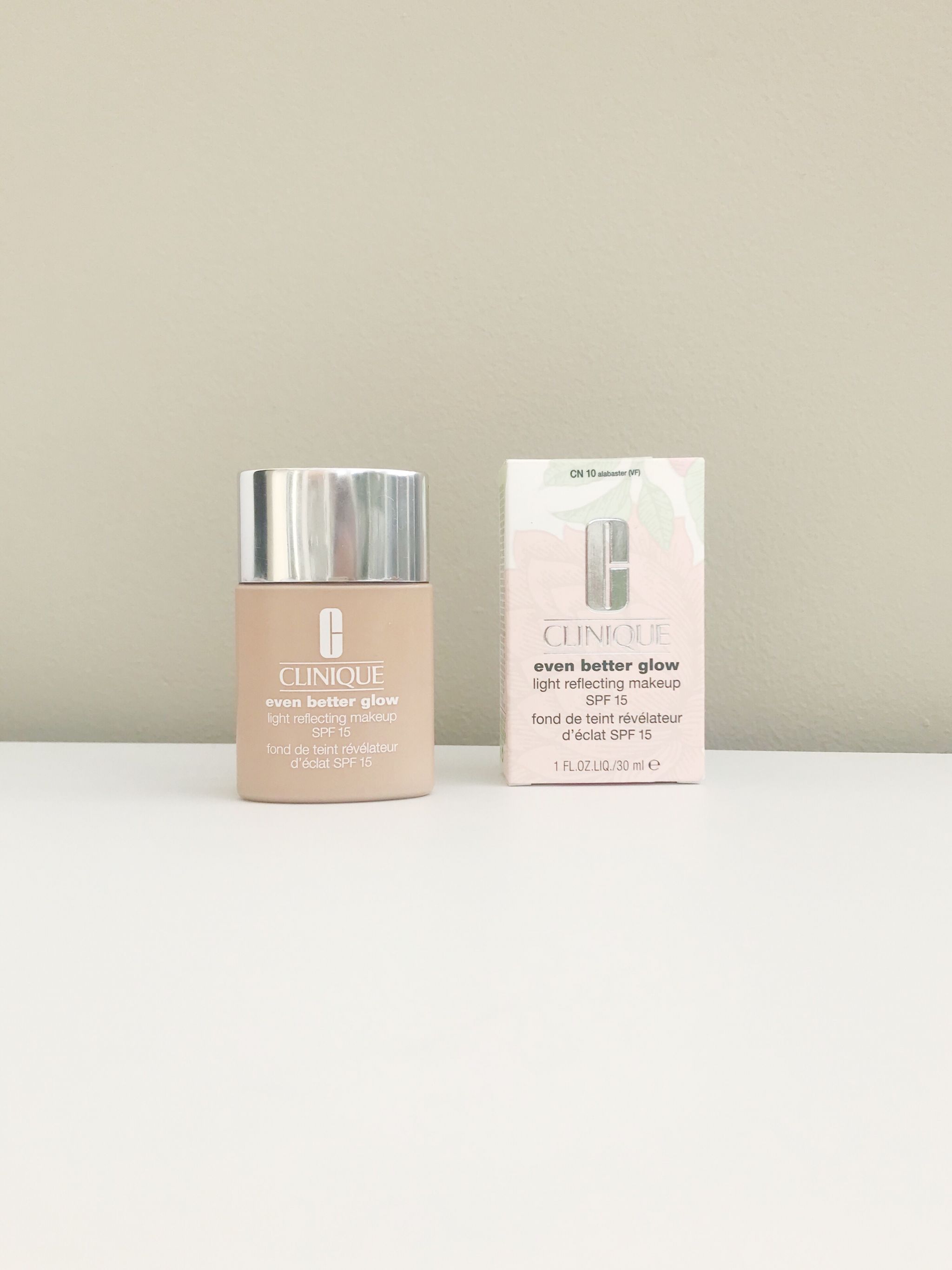 Most foundations or base products that say they impart glow do so via shine – dewiness, to use the preferred marketing terminology – they have a formula that doesn't dry matte but instead leaves a flattering sheen. Which is great for normal to dry skin types who benefit from the added hydration, trickier for oily skins who find that the flattering sheen turns more shiny and less flattering by the hour.
The Clinique Even Better Glow foundation is slightly unusual in that the glow element is delivered without a dewy finish. It has a natural finish, neither shiny nor matte yet still radiant. Glowy, certainly. I'm not entirely sure how Clinique have done it. I would guess that the glow comes from a pearlescent property, in the same manner as a liquid illuminator. However it is achieved, I am a fan. Tried a sample, bought the full size, loving it.
The other super thing about this formula is that the coverage is completely customisable. It diffuses really well, so a tiny amount can cover a large area. For more coverage use more product and it still blends in perfectly. Or it can be built up little by little, from sheer coverage to medium. Very versatile.
I think that the squeeze tube is my favourite foundation packaging. Sure, the glass bottles look nice but they do not enjoy being chucked into a makeup bag/basket/drawer. Nor are they keen on travel. Plus this little Clinique one has a flat lid so you can store it upside down when it starts to run out. And while a pump is convenient, you actually have more control with a squeeze tube over how much product is dispensed.
It lasts well, plays nicely with other products applied on top, doesn't transfer onto your new cream roll neck jumper. Clinique say that it is suitable for all skin types and I would totally agree. One of the most universal foundations I have tried.
Speaking of universal the shade range is good, 30 shades from very fair to deep. I have the shade Alabaster which might be the best match I have ever achieved, fair with neutral undertones. Though I did have to persuade the (lovely) consultant that I needed to go that light – I think that the freckles and bronzer confuse people, a vibrant diversion from the pallor that lies beneath.
Hark! What is this! I've just been to the Clinique website to give you a handy link (your welcome) and it says the following:
It instantly creates a natural radiance with subtle luminizing pigments. Wear it every day and over time bare skin glows on its own, thanks to Vitamin C.
What did I tell you, luminizing pigments. I knew it! I did not know about the Vitamin C, to make skin glow on its own but you can sign me up for that, pronto.
Clinique Even Better Glow Light Reflecting Makeup, £28.50, here.
Til next time,
Hayley
x